We provide commercial kitchen space for rent.
We exist to lower their barriers to entry, helping to build successful food businesses.
We offer professional kitchen space for food production and opportunities for sales and networking.
24 Hour
HSE Approved
Cold, Frozen and Dry Storage
Co-Working
Laundry Service
Managed Deliveries
All the Equipment
Utilities / Rates / Wifi / Maintenance
Cleaning Products and Materials
Loading Bay
1.8m and 2.4m workbenches
9m Cook-line
20 Grid Combi Ovens
Double Stack Convection Ovens
Jacketed Steam Kettle and Tilt Skillet
8 Grid Gas Range
Cold Rooms
Double Bowl Sinks
Pot Wash Area
Part-Time (Nights & Weekends)
Nights & Weekends is designed for food entrepreneurs in launch phase or who only need access in evenings and weekends like a virtual brand or delivery only food business.
Provides 24 hour kitchen access suitable for caterers, meal prep, bakers, and businesses who need more time and space. We believe in putting more Irish food producers on shelves and getting quality food on dinner tables.
Caterers
Production / Product Businesses
Meal Prep Delivery Businesses
Street Food Vendors
Virtual Delivery Only Brands
Co-Packers
Food-Related Party and Event Businesses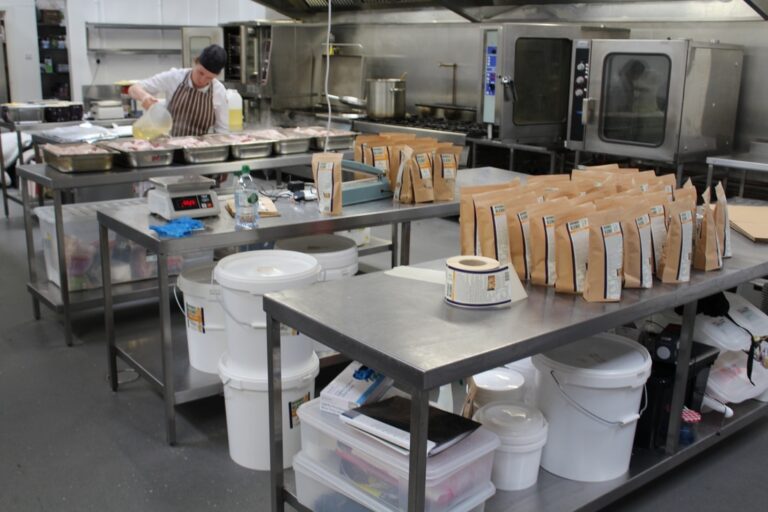 Why Businesses & Startups Work With Us
Do you have a great idea for a new packaged food product or food-related service? We empower food producers to bring their edible products to market in a cost-effective and low-risk environment. Newmarket Kitchen provides a fully equipped, HSE approved commercial kitchen space to rent for all your development needs.
We are ideal for entrepreneurs seeking a professional kitchen to let in the Dublin / North County Wicklow region. Newmarket Kitchen is strategically located to serve Dublin and surrounding areas in less than a 30-minute drive. Our secure facilities are available for rent 24 hours a day, 7 days a week.
We also facilitate contract packaging, or co-packing, services to help start-up food companies ramp up. Our services can also be used by established companies seeking to develop and test out a new or experimental product. Contact us to find out how our packaging and labelling services give you that extra leg up for faster entry to the market. Our central food production unit is also suitable for large caterers and one-off events.
Please Contact Us To Join